Snapchat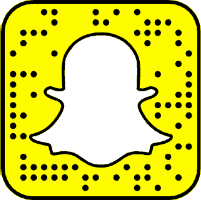 You're on Snapchat? So are we!
Just snap or screenshot the image to the left to add us
---
No idea what Snapchat is?
Don't worry - there are plenty of people that don't know what Snapchat is (in fact, we are still fairly new on it).
Snapchat is a mobile app that is designed for users to take photos and videos and share them with their audience, like an image-based version of Twitter (if you have no idea what that is, then just stick with our website). Take a look online for guides, or see this Dummies Guide to learn more about Snapchat and how to use it (because we probably won't update this page that often).